HoH: HELL SWEEP
Tekken 7
0 / 60 Participants
Cancelled
You're REQUIRED to join the discord in order to participate, anyone who isn't in the discord will be disqualified. link
Entry: FREE
Platform: PC only
Start Time: 8:00 PM EST
Registration Deadline: 7:00 PM EST
Stream: SAKII_VVS
The tournament will be run through grilla.gg, however, players will be required to join the Gates of Heaven Discord.
Tournament Format Double-Elimination bracket Bo3/Ft2 Games till finals where it'll be Bo5/FT3 10 min DQ timer for winners 5 min DQ timer for losers Eligible Regions United States (excl. AK & HI) Canada Mexico
Internet Connectivity
ETHERNET CONNECTION IS A REQUIREMENT. Players found to have a wireless connection or an otherwise unstable connection will be subject to disqualification and removal from the event. Players must have an upload speed above 5 Mbps and jitter under 6 ms. Connections can be checked at https://speed.cloudflare.com/
If any connection issues arise during a set, a player may call for a Tournament Organizer to perform a connection test. This must be done BEFORE the set is over. If the set is completed before a connection test is called, the results of that set will stand regardless of the outcome of the connection test.
Tournament Organizer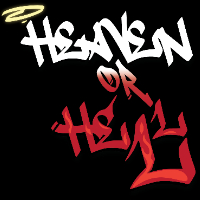 HeavenOrHell
Stage 1: Double elimination
Players select their sides

Players select their characters. Either Player may invoke Double Blind Character Selection in which they tell the Tournament Organizers their selection to defeat character counter picking.

The losing Player of the preceding Match may choose to change characters, hit rematch or choose a preferred stage.